Dr. Danny Vo, DMD
Dentist in Fairfax, VA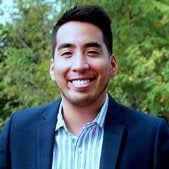 Hello!
My name is Dr. Vo. I am so fortunate to be able to do something I love, which is helping patients achieve the healthy, beautiful smiles that they want and deserve! Dentistry is such a rewarding profession because it allows me to use my hands in crafting esthetic smiles while also enhancing one's well-being and quality of life.
I was born and raised in South Carolina. I believe that southern hospitality is so essential in dentistry, with ensuring that everyone I interact with feels respected, comfortable, and at ease. I graduated from the College of Charleston with a BS in Biology. I love Charleston; it's a beautiful city with so much to do (beach, food, history, culture). I was lucky to be able to stay in the area for dental school, and graduated from the Medical University of South Carolina. Afterwards, I moved across the country to Seattle for a residency in Advanced Education in General Dentistry. I am new to the Northern Virginia area, and am excited to learn more about the region.
I am so grateful for my family and friends, and believe that those are the most important components of our lives. They push me to always improve and be the best that I can be! Traveling is a big passion of mine, I think there are so many interesting places to explore. Some of my favorite places are cities in California, such as San Francisco and San Diego, where there is so much to do and see! I am also of Vietnamese descent, and would like to go back to Vietnam in the future to learn more about my heritage. Another hobby of mine is music, and I really enjoying going to concerts of different genres. I also enjoy watching college football (Go Gamecocks!), the beach, and photography. I really like food and trying cuisines of various cultures and have been trying to learn how to cook more as well.
I look forward to meeting you at the office!