Orthodontic Treatment with Fastbraces in Fairfax, VA
Fastbraces® for Everyone!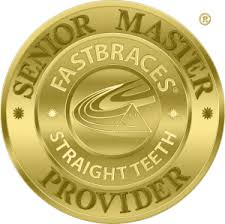 Dr. Trung Le is a Senior Master Affiliate of Fastbraces®, an honor given to very few Fastbraces® providers.
If your child needs braces, is the first question out of their mouth is probably: "How quickly can I get them off?"
Orthodontics with Fastbraces is the perfect solution for this! The Fastbraces® Technology typically allows for a treatment time of one year instead of two. Some patients even see results in as little as three months!
If you or your children want to fix your misaligned teeth or dysfunctional bite quickly, you may want to consider this option. The good news is, with the Fastbraces® Technology, you and/or your children can receive quick orthodontic treatment with minimum discomfort. If you're interested in improving your smile with Fastbraces® be sure to make your appointment with Fair City Mall Dental Care by calling us at (703) 978-3541!
Fastbraces vs. traditional braces
Compared to traditional braces, Fastbraces® are superior to traditional braces in many ways. First of all, Fastbraces take a significantly shorter amount of time to successfully complete the treatment. You might expect this level of convenience to come at a higher cost; however, you might be surprised to learn that Fastbraces are actually the cheaper treatment option. If you chose to get orthodontics treatment using the Fastbraces system rather than going with a more traditional treatment option, you could wind up saving around $1000– that's enough savings to fund a whole vacation!
Quick results
Fastbraces are so effective because they use what are known as self-litigating braces. Because of this, they do not require the use of wire or elastic bands in order to keep them in place. This lack of wire and elastic means that there are fewer chances of friction happening in between the wire and the brackets. As a result, you are significantly less likely to have to go through repeated trips to the dentist throughout the course of your treatment. So you will not only be saving a significant amount of money throughout the course of your orthodontic treatment, but you will also be saving a significant amount of time as well as travel expenses.
Less pain
You might think that because the Fastbraces system realigns your teeth so fast in comparison to the alternatives that it will be significantly more painful. However, you'll be pleased to learn that this is not the case. The Fastbraces orthodontics are actually less painful than traditional alternatives. Research has shown that when using the Fastbraces system, your teeth are significantly less sensitive than with the traditional options.
So if you want an orthodontic treatment option to fix your smile which is cheaper, faster, and less painful than traditional braces, you should give the Fastbraces system a try. Give us a call at 703.978.3541 and we will get started on setting up an appointment for you. Our dentist will examine your teeth to determine if you are a suitable candidate for Fastbraces. Generally, Fastbraces are quite universal – almost anyone can have them fitted successfully. With Fastbraces, you will get the smile you deserve in almost no time at all. Read our frequently asked questions about Fastbraces for more info!
Call us at 703.978.3541 to get the quick braces alternative today with Fastbraces!