Treatment for Bruxism in Fairfax, Virginia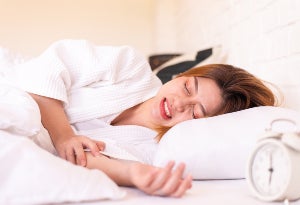 A Bruxism Night Guard Can Help You Sleep Better
Fair City Mall Dental Care provides professional bruxism treatment to patients throughout Fairfax, VA, and the surrounding areas. Whether you need a bruxism mouth guard or a bruxism night guard, we've got you covered. At our state-of-the-art dental clinic, we prioritize our patients and their smiles. With years of experience, you can rest assured you're in good hands when you visit us for bruxism treatment.
What Is Bruxism?
Bruxism is the involuntary and habitual grinding of the teeth. This condition is most commonly characterized as sleep-related movement disorder. Though bruxism can also occur while awake, awake bruxism is much less common than sleep bruxism. If a severe case of bruxism is left untreated, it can cause pain in the teeth, jaw muscles, and temporomandibular joints (TMJs).
The Two Types of Bruxism
As stated above, there are two types of bruxism: sleep bruxism and awake bruxism. Sleep bruxism is a sleep-related movement disorder. Those with this sleep-related chewing activity are likelier to have other sleep disorders like migraines and headaches. Awake bruxism is bruxism that occurs while one is awake. This is the unconscious clenching of the teeth. This type of bruxism is often related to emotional issues like stress and anxiety. It can also occur when someone is concentrating hard. Awake bruxism isn't treated like sleep bruxism because it can be noticed and stopped.
What Causes Bruxism?
Various genetic, physical, and psychological factors can cause bruxism, but it is most often caused by stress and anxiety. Additional causes of bruxism include crooked teeth, missing teeth, an abnormal bite, and an existing sleep disorder such as sleep paralysis or sleep apnea. Risk factors for bruxism include:
Smoking – Smoking cigarettes increases the chances of bruxism.
Family History – A family history of teeth grinding can increase risk.
Stress – Increased stress can lead to teeth grinding.
Age – Bruxism is most common in children.
Personality – Bruxism is most common in those who are aggressive and hyperactive.
The Symptoms of Bruxism
Bruxism symptoms can vary from person to person. Additionally, the type of bruxism a patient suffers from will heavily influence the signs and symptoms that may be noticeable. The primary symptoms of bruxism include, but are not limited to, the following:
Teeth grinding
Teeth clenching
Chipped teeth
Loosened teeth
Flattened teeth
Fractured teeth
Jaw, neck, or face pain
Worn-out tooth enamel
Sleep disruption
Increased tooth pain
Increased tooth sensitivity
Tired or tight jaw muscles
Dull headaches starting in the temples
Professional Treatment for Bruxism
If you suffer from sleep bruxism, you can schedule an appointment with the professional team at Fair City Mall Dental Care, and we can provide you with premier treatment. If left untreated, bruxism is capable of harming one's overall health. Not only can this condition result in fractured or loosened teeth, but it can also cause tooth loss, tooth damage, tension headaches, and more. We customize bruxism treatment based on our patient's age, overall health, medical history, and preference. Most often, we treat this condition with mouthguards, nightguards, and sometimes with medications, as they can help regulate one's neurotransmitters.
Contact Our Dental Center for Bruxism Treatment
The professional team at Fair City Mall Dental Care in Fairfax has provided professional bruxism treatment to patients for years. With top-of-the-line technology, our valued patients can expect nothing less than the best when they visit our dental center for bruxism treatment. Contact us today to learn more about our services or schedule an appointment. You can also check out our reviews to see what some of our satisfied patients had to say about their experience with us.
Why Choose Us?
Convenient Early, Late, and Saturday Hours
Same Day Emergencies Welcome
Works Great With Children
Fastbraces® Orthodontics – Fast, Safe, Easy & Affordable
Provides Complete Dental Implant Services
Complete Dental Care in One Office