Get Tooth Colored Fillings In Fairfax
Would you like to restore the natural look of your teeth with white fillings?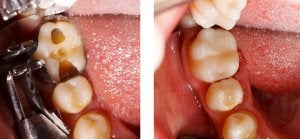 Our Fairfax dental office offers patients tooth colored fillings which can be an attractive alternative to dark amalgam fillings. They are esthetically pleasing and require very little removal of tooth structure. The composite material creates a seamless, natural restoration, and then can be shaped and polished to look exactly like the tooth.
Changing a silver filling to a white filling is an easy and relatively inexpensive way to restore the natural look of your tooth. Silver fillings tend to wear or "tarnish" over time. A white filling can be just as strong and is shaped and polished to improve the appearance of the tooth. For more information on changing your silver fillings to white fillings or to learn about any of our cosmetic dental services to brighten your smile, please call our office at (703) 978-3541, or use our contact page.