Fair City Mall Dental Care is Your Dental Fillings Expert in Fairfax, VA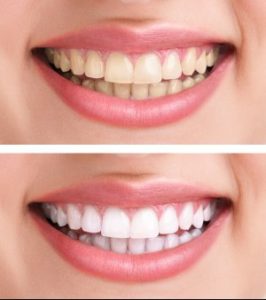 When you need dental fillings in Fairfax, VA, trust the experts at Fair City Mall Dental Care. Our dentists, dental assistants, dental hygienists, and friendly office staff will help ensure you receive exceptional care and leave with a full smile. Most people need a dental filling to restore a tooth at some point in their lives. They may have a cavity or other imperfection that needs simple attention. Traditionally, these fillings have been a dark amalgam that is apparent every time one tilts his or her head during a belly laugh and may even be noticeable during a regular conversation. But Fair City Mall Dental Care offers a cosmetic dentistry treatment that is more aesthetically-pleasing and discreet. Our tooth-colored dental fillings blend into your smile's regular appearance so that others do not even know you have them. We have answered some of our most frequently asked questions about tooth-colored fillings below, but call us today if you have more queries of your own.
What Are Dental Fillings?
Fair City Mall Dental Care can use dental fillings to restore teeth that have been damaged by cavities or decay to their normal function and shape. When part of your tooth has decayed, it may be challenging to eat or speak, but it also leaves you vulnerable to bacteria and disease. Dental fillings cover the weak areas of your tooth where bacteria can enter, thus protecting your oral health and helping prevent future decay. Fillings consist of many different materials, including gold, porcelain, amalgam, and even composite resin, which we use for tooth-colored dental fillings.
Why Would I Want Tooth-Colored Dental Fillings?
Many people are self-conscious about their smile's appearance, with any imperfection being a reason to refrain from flashing a wide grin. But no one is immune to tooth decay. Therefore, it is possible you will need a dental filling at some point. Tooth-colored dental fillings made of composite resin can restore your tooth's strength while also preserving your white smile. Contrary to dental fillings made of alloys and metals, composite resin will match your tooth's color for a more natural appearance. Tooth-colored dental fillings are designed to be undetectable even if someone is up close and personal with your mouth. However, as with your normal teeth, it is essential to clean these fillings thoroughly. Coffee, cola, tobacco, and more can stain tooth-colored fillings, so brush them entirely as you would your natural teeth.
What Can I Expect When I Receive Fillings?
The team of specialists at Fair City Mall Dental Care can adeptly apply dental fillings to improve your oral health and the appearance of your smile. After determining that filling your teeth is the right course of action to restore function and prevent further decay, we will remove the decayed portion of your tooth to provide a fresh canvas for your filling. Before filling the cavity, we will clean the affected area thoroughly. This ensures no bacteria are trapped and able to begin decaying your teeth from the inside. For tooth-colored fillings, we will then mix and place the composite resin directly into the cavity, where it will harden. This solution is not ideal for large fillings because it is prone to chipping, but with routine dentistry appointments at our clinic in Fairfax, we can help you address any issues before they get too advanced for this approach.
If you already have silver fillings made with metal or alloy, we can change them to white, tooth-colored fillings with relative ease. This will restore the natural look of your tooth and will be just as functional and strong as any other material. Let us know if a change is in order for you.
Why Should I Choose Fair City Mall Dental Care?
Patients visit Fair City Mall Dental Care for our friendly, professional environment. We have been serving residents from Fairfax, VA, and the surrounding area for more than a decade and a half. In that time, we have established long-term relationships and built trust with all our patrons. They know they can come to us when their children need dentistry services or when they have a dental emergency. It is no wonder that they also visit for cosmetic purposes. We will provide exceptional care so that you can proudly flash a smile you are proud to see in the mirror.
Contact Fair City Mall Dental Care Today!
Needing a dental filling is no reason for embarrassment. Many people need one or more throughout their lives. However, you may not always be able to tell who has them. Fair City Mall Dental Care offers tooth-colored dental fillings to help you display a seemingly flawless set of pearly whites. If you are interested in this option when you need a filling – or if you want to change an existing silver filling into a white one – contact us today to schedule an appointment.