Dentures in Fairfax, VA
Our Dental Professionals Can Restore Your Smile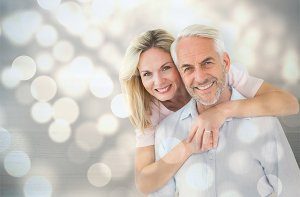 You deserve a smile of which you can be proud. If tooth damage or decay has left you reluctant to show your smile, have no fear. Fair City Mall Dental Care has a solution. We offer full and partial dentures to patients in Fairfax, VA. Our dentists are committed to helping everyone who visits our state-of-the-art clinic achieve the smile of their dreams. We offer general, cosmetic, and restorative dentistry. Among our specialties is providing perfect dentures for individuals who are missing one or more teeth. If you want assistance correcting your smile, call our friendly team today to learn how we can help.
Understanding Dentures and Their Purposes
Dentures are custom-made restorative dental solutions for individuals who have lost one or more teeth. Missing teeth are more than merely an aesthetic problem. Teeth are vital components of your facial structure. Losing teeth as a result of periodontal disease, damage, or decay can cause a chain reaction. Your other teeth may begin to shift. This can affect their alignment and the strength of your jawbone. Shifting teeth can also cause your facial muscles to sag. Your teeth will become progressively more challenging to clean, and you will eventually be unable to eat some of your favorite foods. But dentures can resolve these problems.
Signs You Might Need Dentures
It is important to recognize when you might need dentures. You may think that one missing tooth is not a big deal, especially if it is less than obvious. But there are considerable long-term risks to not addressing such a problem when it arises. Visit Fair City Mall Dental Care to discuss getting dentures if you notice:
Loose or shifting teeth
Difficulty eating some types of foods
Red, swollen, or bleeding gums
The Differences Between Full and Partial Dentures
We offer full and partial dentures to patients in Fairfax, VA. Some are reluctant to get dentures due to stories about them being uncomfortable, unappealing, and unable to chew certain foods. But advancements in dental technology have improved the quality and feel of dentures. Modern dentures are reliable alternatives to other restorative solutions such as bridges and dental implants. The differences between full and partial implants are as follows:
Full Dentures – Otherwise known as complete or traditional dentures, patients opt for full dentures when they are missing all of their teeth in the upper or lower jawbone. Our dentists create immediate full dentures as a temporary solution until conventional dentures are ready.
Partial Dentures – Partial dentures are created for individuals who are only missing a few teeth. We offer removable dentures or partial dentures that we secure in place with a metal framework and clasps.
Our Dentures Procedure
The dentures process requires multiple appointments at our Fairfax, VA clinic. We will begin with a dental examination to determine the condition of your teeth and your overall oral health. During this exam, our dentists will check for signs of infection or decay that could hinder the dentures process. In some situations, we may have to remove additional teeth to ensure your dental solutions last for years to come. Next, we will take a mold of your teeth to create dentures that fit your mouth perfectly. This mold and your measurements are then sent to a lab, where your dentures will be created. Once your dentures are ready, you will return to our practice for a proper fitting. We will make sure your full or partial dentures do not cause pain or discomfort. If necessary, we will make adjustments before you leave.
What to Expect from Your Dentures
While you will not experience any pain from your dentures after placement, there may be an adjustment period until you are comfortable wearing them. You must adapt to eating and speaking with them, but the learning curve should be brief. Before long, you will be able to laugh, smile, and chew without issue or concern.
You will need to care for your dentures as you would your natural teeth. We recommend rinsing your mouth and dentures after every meal. Also, you should clean your dentures daily and brush your gums with a soft toothbrush.
Contact Fair City Mall Dental Care Today
Fair City Mall Dental Care is committed to your oral health. We want you to be able to smile freely and eat your favorite foods. Therefore, we offer full and partial dentures to replace one or more missing teeth. Our highly-trained dentists are adept at fitting patients for dentures in Fairfax, VA. Schedule an appointment today to restore your smile.
Why Choose Us?
Convenient Early, Late, and Saturday Hours
Same Day Emergencies Welcome
Works Great With Children
Fastbraces® Orthodontics – Fast, Safe, Easy & Affordable
Provides Complete Dental Implant Services
Complete Dental Care in One Office