Pediatric Dentistry in Fairfax, VA
We Are Proud to Care for Your Children's Teeth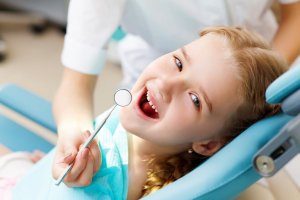 No matter how old you are, you need a compassionate dentist to care for your teeth. That is why Fair City Mall Dental Care offers pediatric dentistry services in Fairfax, VA. We are proud to care for your children's teeth and help them develop an oral healthcare routine that lasts a lifetime. In addition to our comprehensive general, cosmetic, and restorative dentistry procedures, we specialize in treating patients from the moment their first tooth erupts until they have a complete set of permanent teeth. Furthermore, we help parents understand what measures to take to ensure their sons and daughters have healthy teeth and gums. If you have a little one who needs dental care, call our friendly team today.
The Difference Between Pediatric and General Dentistry
While all dental professionals must complete extensive education requirements, pediatric dentists supplement their learning with additional training to deal with children. This specialized training enables dentists to treat infants, adolescents, and teenagers as they grow. Our doctors enjoy working with kids and are familiar with childhood development and behavior. This makes us uniquely qualified in the Fairfax, VA area to address your youngster's dental needs.
Visiting A Pediatric Dentist Establishes Oral Health Habits
Children should visit a dentist within six months of their first tooth erupting or by their first birthday, whichever comes first. Establishing an oral healthcare routine early helps develop good habits that will last a lifetime. Familiarity with the dentist's office will also alleviate anxiety. We will make sure your child is comfortable at all times so that they develop positive associations with sitting in the dentist's chair.
What to Expect During Your Child's First Visit to the Dentist
Your child's first visit to our dental practice in Fairfax, VA will be short and straightforward. We will provide you with basic information about oral healthcare and perform a routine exam. Our main goal during the first visit will be to ensure there are no abnormalities or causes for concern related to your child's teeth or gums and answer any questions you may have. If we see any minor problems, we may perform brief teeth cleaning.
How to Clean Your Child's Teeth
You can help guarantee your child's teeth and gums are healthy by cleaning them at home. We will instruct you on the best ways to do so during your initial pediatric dentistry visit. General rules of thumb include:
Before the first tooth appears, clean gums after feedings using a damp, soft washcloth
Begin using a toothbrush with soft bristles and a small head after the first tooth appears

For children younger than two years of age, only use a smear of toothpaste
For children aged two to five, use a pea-sized amount of toothpaste
The Importance of Pediatric Dentistry
Deciduous teeth, otherwise known as baby teeth, play an important role in your child's development. They allow your child to chew, speak, and smile properly. They also serve as placeholders in the jaw for permanent teeth. Therefore, it is important to monitor their positioning and address any problems as they arise. If your child loses a tooth early due to damage or decay, it can affect the way his or her permanent teeth erupt, leading to misalignment or bite issues. We recommend scheduling biannual dental appointments to make sure your child's mouth is healthy.
Once your child's permanent teeth erupt, we will continue to monitor their development. We want to ensure there are no spacing, crowding, or bite issues. Our staff can correct any such problems with high-quality orthodontic treatments.
Consider Dental Sealants for Your Child
You can help your child avoid cavities by encouraging proper oral hygiene and daily toothbrushing. But you should also consider dental sealants and fluoride treatments. Dental sealants cover fissures and pits in teeth that can sometimes be difficult to clean with typical brushing, leaving them vulnerable to decay. We can seal your child's teeth for long-lasting strength and protection.
Contact Fair City Mall Dental Care Today
Your child deserves premier oral healthcare, and the team at Fair City Mall Dental Care is capable of providing just that. We offer pediatric dentistry services to infants, children, and adolescents in Fairfax, VA. We also lend our guidance and experience to parents so that they can assist with at-home oral healthcare. Contact us today to schedule an appointment.
Why Choose Us?
Convenient Early, Late, and Saturday Hours
Same Day Emergencies Welcome
Works Great With Children
Fastbraces® Orthodontics – Fast, Safe, Easy & Affordable
Provides Complete Dental Implant Services
Complete Dental Care in One Office