Comparing Various Types of Dental Implants in Fairfax, VA
Fair City Mall Dental Care Offers Many Dental Implant Options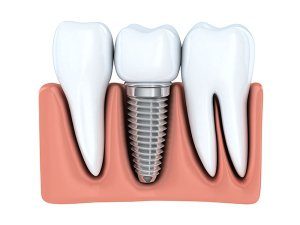 It's estimated that over 35 million adults in the United States are missing all of their upper and/or lower teeth. While that seems like a staggering statistic, the reality is tooth loss is common as we get older. However, that's not to say that you have to live with missing teeth for the rest of your life. You should replace missing teeth to improve your oral and overall health. Fair City Mall Dental Care provides many restorative dental options for our patients, including dentures, dental veneers, CEREC same-day crowns, and dental implants. Many of our Fairfax, VA patients prefer dental implants because they look, feel, and function like natural teeth. One of the best options to consider when replacing missing teeth, dental implants come in many options to offer a unique, customized treatment for every patient. Read on to learn more about the different types of dental implants to determine which is right for your needs.
Replace a Single Tooth with an Individual Dental Implant
If you need to replace a single tooth, an individual dental implant often makes the best choice. A dental implant replaces your tooth root and integrates with your jawbone in a process called osseointegration. While you have other restorative options available, including a tooth-supported fixed bridge or a crown, dental implants are less invasive to your neighboring natural teeth. You won't have to grind down any of the adjacent teeth to support the dental implant. Dental implants also help preserve your jawbone and look and feel so natural, nobody will even be able to tell you've had any restorative dental work done!
All-on-4 Dental Implants Make a Convenient Choice for Many
When you need to replace all of your upper or lower teeth, All-on-4 dental implants make a convenient option. Also referred to as "teeth in a day," All-on-4 dental implants use four implants at once to replace all of your missing teeth in a single office visit. All-on-4 dental implants require a temporary set of replacement teeth while your gum tissues heal. After about six months, the implants bond directly to your jawbone, and the permanent replacement teeth are placed. You may be asked to adhere to a modified diet during the interim, but this is only a temporary and minor inconvenience. You'll be able to resume your normal diet in no time, unlike denture wearers, who often have to avoid certain foods.
Full-Mouth Dental Implants to Replace Upper and Lower Teeth
Sometimes full-mouth dental implants using an implant-supported bridge or full or partial dentures is recommended to replace your natural teeth and some of their roots. Full-mouth dental implants are one of the more complex dental implant options we offer at Fair City Mall Dental Care. They usually require an extensive consultation in which dental x-rays or CT (computed tomography) scans are necessary for us to create a diagnostic mock-up of your smile transformation to help ensure their success.
The amount of treatment time and costs associated with full-mouth dental implants will vary according to the number of tooth implants required and whether or not bone grafting is necessary to complete the treatment. It should be noted that a single dental implant can support multiple teeth, meaning it's not exactly a tooth-for-tooth replacement cost. Many patients prefer full-mouth dental implants instead of dentures because they allow them to resume their regular diet and lifestyle without fear of needing to replace or readjust their dentures over time.
Mini Dental Implants Are Less Invasive & Require Less Jawbone
As their name implies, mini dental implants are slightly smaller than traditional dental implants. Mini dental implants have a similar structure to standard dental implants, but they make a viable option for patients who lack sufficient jawbone mass to support regular dental implants. They also require a less invasive surgery to place them, making them a more attractive restorative option to many patients. Caring for mini dental implants is the same as regular dental implants or your natural teeth. As long as you remember to brush and floss daily, mini dental implants are built to last many years.
Request a Dental Implants Consultation in Fairfax, VA
Fair City Mall Dental Care would love to help you restore your pearly whites with dental implants in Fairfax, VA. Please contact our office today at 703.978.3541 to schedule a consultation with our dentists to determine which dental implant solution is right for you. We also encourage you to view our Frequently Asked Questions About Dental Implants to help alleviate any concerns you may have before your consultation. Dental implants make it possible for you to get the healthy, attractive smile you've always wanted and deserve!
Why Choose Us?
Convenient Early, Late, and Saturday Hours
Same Day Emergencies Welcome
Works Great With Children
Fastbraces® Orthodontics – Fast, Safe, Easy & Affordable
Provides Complete Dental Implant Services
Complete Dental Care in One Office